This post may contain affiliate links.
February 8, 2023 – Post #65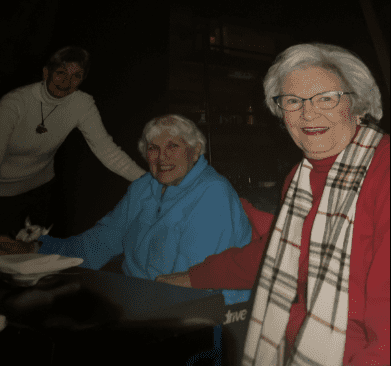 Can anybody tell us who it was that came by and wanted cornbread? 🤓

That's the morphine-induced mystery my mom has been trying to solve this evening.  She says somebody that stopped by was wanting some; but can't remember who – however, she says, "It won't take long to whip up a batch", if she can just remember who it was that wanted some…

I've assured her that if whoever it was happens to come back, we have plenty of cornbread to share, thanks to her friends that brought some by; so she doesn't need to worry about cooking more.

It's pretty cute how she's still concerned that whoever it was gets taken care of – and that their cornbread craving doesn't go unattended to.

She's had a rough time with a bad cough; but seems to have gotten some relief the last few days.  Her oxygen levels have dipped down into the eighties some, so we have increased the use of her oxygen.

At this point, she is sleeping more; but seems comfortable and pretty content just resting and watching the birds and squirrels outside.  

She's still sometimes confused about her whereabouts.  Sometimes she thinks this is a nursing home.  We were laughing last night about the old nursing home in Wabash, where her brother was once the administrator.  

The stories from that place could make up a mini series.  My favorite is still the one about the resident that wanted to be helpful, and therefore gathered all the false teeth in the facility, to wash them together.  The staff had quite a time sorting dentures to divvy them back to their appropriate owners.
Reminiscing about that place, she wound up her thoughts by saying, "Yeah, but that's not a nursing home anymore. Now they sell guns."
It sounded funny to me; but I agreed, "Yes, it used to be Bibs and Briefs; but now it's 'Bass and Bucks'."
I wonder how many other retirement centers have been repurposed into rifle ranges – my guess is, that's probably pretty rare; but that particular nursing home wasn't exactly known for normalcy.  I still want to track down people who have first hand accounts of that place and put together a collection of stories. 

We've had some stories of our own around here…  

It's pretty amazing, given my mom's diagnosis, that she reached her 81st birthday last month.  It's been almost a full year since she chose to be placed under the care of Hospice.  There have been many ups and downs during this season; but it's a blessing to look back and see how much she has LIVED during this season of dying.  

It reminds me of the Tim McGraw song, "Live Like You Were Dying".  I'd encourage you to listen to that song.  It's meant a lot to me over the years, especially in seasons when I have encountered my own major health struggles.  None of us know how many days we have left.  

We have had far many more days with my mom than I expected, since the day she was diagnosed with pancreatic cancer, in July of 2021.  To me, that news was like a death sentence.  I thought she'd be gone in a matter of weeks.  It's been over a year and a half. I'm grateful and glad that God has given us more time with her.  
I'm not sure how much longer this season will last. There are indicators that she's getting closer to the end. Her feet and ankles have been swelling; her lungs don't sound clear at all; she is extremely tired; food is less and less appealing; most of her strength and mobility have diminished – but she's still got that smile… and is still looking out to make sure other peoples' needs are met – and hoping to keep everybody in cornbread as long as she can.
If you missed my last post, you might go back and see our Beth-E's debut as an internet sensation. Read on, if you'd like to know how she's supposedly reverted to "nursing again".
*To read more on my mom's cancer journey from the beginning, or share it, please click below: